Most valuable investment for your RC device !
Protect your batteries, and protect your aircrafts !
Saving the precious money and Keeping the best performance
Easy to connection with RC components / Convenience to attach inside battery pack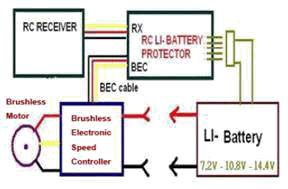 Features:
*. Auto voltage detection functions.
*. Individual 2 ~ 4 single cell statue displayed.
*. Battery over discharge protect for individual cell.
*. Low voltage protection for aircrafts by soft cut-off throttle powers.
*. Over heat (temperature) protection : if battery temperatures was higher than 60℃ (device has to be attached with battery), will start a low voltage protection mode.
*. Circuit-short protection : avoid the circuit-short of the BEC and battery leads.
*. Weight : 12 g.
*. Size : 60.0 X 31.0 X 6.0 mm.
For details information and prices please contact with the service mail address at : rc.mart@msa.hinet.net