Easy installation ! Quick maintenance !
The pack contents of follows :
* LENO Sub-micro servo X 4 pcs.
- Torque : 400g.cm/4.8V, or 500g.cm/6.0V.
- Weight : 4.58g.
- Size : 20 X 6.5 X 19 mm.
- Rotate speed : 0.12 sec/60 degrees/4.8V, or 0.11sec/60 degrees/6.0V.
- High accuracy position algorithms for RC fields' applications.
* NT-400 Head Locked Gyroscope X 1 pcs.
- Fast response and high precision locking ability.
- Lock / Non-lock mode switched by transmitter and color LED indicated.
- Sensitivity adjustable.
- Temperature compensation algorithms.
* Brushless electronic speed controller 10A X1 pcs.
-Operation current : 10A (30% over surge current in 15 seconds).
-Throttle curve setting.
-Brake / Non-brake setting
-Soft cut-off function.
-Over heat (temperature) protection.
* Li-polymer battery 800mAH X1 pcs.
-Stable material for safety charge, discharge, and storage.
-High discharge rate (~ 15C).
-High charging ability (1~3C).
-High endurance for varied ambient temperatures.
-Long life for charge / discharge (more than 100 times in normal conditions).
*Additions :
Seasonal gift from RCmart for 2nd quarter (200704~200706) :
* The NX-101 servo neutralizer X 1pcs.
- For servo center (neutral) point setting.
- Small sized, light weighted, and easy connecting.
- Suit for any kinds of servos.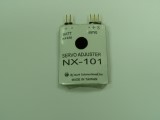 For more details information and prices please visit the RCmart website at : http://www.rcmart.com.tw, or contact with the service mail address at : rc.mart@msa.hinet.net